Tea Time!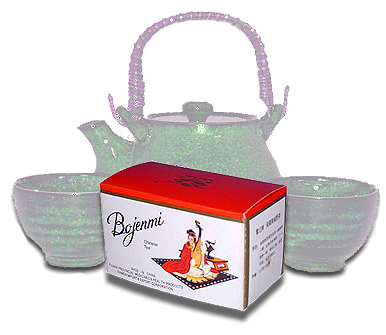 "Your mom, Aunt Boo, and I have been drinking it since 1996 so I know that you've heard me go on and on about it. The Chinese pronounce it BOW(rhymes with cow)-JENN-MAY but in the deep south they've called it bo-jimmie and bo-jiminy and what does it matter, as long as you drink it!? Keep this letter in your "toolbox" (for whatever it's worth). I won't be insulted if you choose to ignore it, but I can save my breath later by reminding you to refer back to the information & education herein.
I've heard stories about people trying it for so many different things! I don't know what, if any, proof or scientific data exists but my own results lead me to make it my First Choice for virtually every-little-thing that comes up and overall wellness. Our family, my friends and clients will continue to be in unanimous agreement!"
Tea ingredient list:
CRATAIGUS.PINNATIFIDA: Chinese Haw: stomach, antibacterial
FRUCTUS HORDEL GERMINATUS: germinated barley: spleen, stomach
PORIA COCOS: wolff: diuretic, anti-inflammatory
CITRUS CHACHINESIS HORTORUM: weight-loss
RHIZOMA ALISMATIS: water plantain tuber: kidney (sic)
MASSA MEDICATA FERMENTATA: promotes digestion, strengthens stomach
PHARBITIS: morning glory: laxative
PHASEOLUS ANGULARIS: adzuki bean: carbohydrate blocker
RAPHANUS SATIVUS: radish: liver, stomach, laxative, arthritis, gall bladder
PRUNELLA (sic) VULGARIS: selfheal, heal-all, heart-of-the-earth: antibiotic, diabetes
CASSIA TORA: flatulence, nausea
POGOSTEMON CABLIN: patchouli: headache, cold, nausea, diarrhea, stomach pain
WHITE TEA: uncured, unoxidized: cleansing -->
---

RESULTS  will vary, depending upon all of the above factors and more.  There are no guarantees or promises of any particular results during any specific period of time.  Reflexology is only one personal choice from many tools available for self-care.
Before beginning any new diet, exercise, or self-care program, it is recommended you consult your personal healthcare practitioner.